Dad, you will show your daughter how much she is loved by giving her this luxury gift and dinner for under $100. You will make her cry! A holiday saving that is priceless and will not break the budget. You will save on your personal finance while giving the gift of a lifetime and enjoying a simple tasty meal! While this jewelry may be replaceable, the beautiful message that comes with this exquisite necklace will be invaluable and irreplaceable. She will treasure this memory forever! Make a lasting impact that will last an eternity.
Sometimes, it is hard to find the words to tell that loved one or that special person how we truly feel! There are times when the perfect card or gift comes along and speaks exactly what is in our hearts and mind.
This beautiful Love Knot Necklace will make her cry and hug you at the same time! Imagine her reaction when receiving this beautiful Love Knot Necklace. It represents an unbreakable bond between two souls. Surprise her with this gorgeous gift today! A 14K white gold finish or 18K yellow gold finish necklace. Packaged in the box of your choice of white or mahogany (standard or luxury box).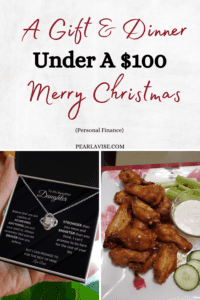 Gifts under $100 that speak to the heart but do not break the budget!  This collection has more than 20 gifts under $100.  You can purchase a gift for your, just click to check out these beautiful items:
Check out the collection.  Give the heartfelt gift message of love! Don't forget about the beautiful Dog Tag collection!
Do not let Christmas or the holidays creep up on you! Shop Now and Shop Early!
8 REASONS TO SHOP EARLY
Control Your Money
Will spend less
Better deal on early discounts
Help maintain your savings and budget goals
Free shipping saves a lot of money
Avoid increased fees on shipping
Avoid inventory shortage on your favorite items
Avoid delayed or late delivery
Relieve the stress and do not wait until the last minute!
Now that you have purchased the perfect gift for your loved one, you will really show her how financially savvy you are when you make her these tasty, juicy, sweet-spicy winglets garnished with celery sticks and thin slices of cucumbers, with a cup of blue cheese dressing. You will still stay within your $100 budget because the items you need are either in the kitchen cabinet or fridge.
SWEET AND SPICY WING RECIPE
You can continue to lavish your love on him or her with some "Sweet and Spicy Chicken Wings" that your loved one will enjoy and will remember Christmas 2022 forever!
The items for this recipe will not break the budget because these items may be in your kitchen cabinet already or on the grocery list.
STEP 1 – INGREDIENTS
ITEMS NEEDED (Gather all your items before you begin to cook)
Pack of chicken wings or winglets (small pack cost about $11 or family pack $18)
Olive oil (can use oil of your choice)
Herbamare (one season – excellent, consist of twelve seasonings; but can use your own seasons)
Honey
Hot Sauce (I like Texas Pete, but any type of spicy sauce would do)
Flour (slightly coat winglets in flour before frying)
Pack of celery (Cut into thin sticks)
One cucumber (Slice into thin slices)
Blue cheese dressing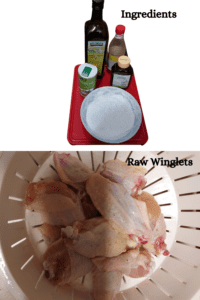 STEP 2 – FRY THE WINGLETS
Pour oil into the skillet
Clean and rinse off chicken wings (make sure you drain all the water off your meat). Season wings
Cover in flour lightly and drop into the skillet piece by piece (if you are not a cook, be careful with hot oil)
Cook chicken thoroughly on both sides until golden brown
Remove chicken from skillet and set aside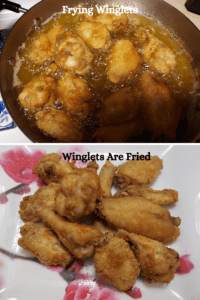 STEP 3 – PREPARE THE SAUCE
(Preparations for sauce)
Pour hot sauce and honey into the skillet on low heat
Stir, making sure the hot sauce and honey blend together
Use a fork to marinate the winglets in the sauce until all pieces are marinated in the sauce for about a minute or two.
NOTE:  Make sure you pour in enough hot sauce and honey to cover the chicken wings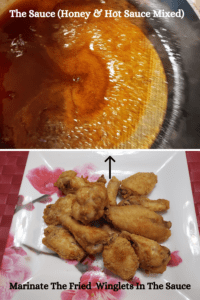 STEP 4 – ARRANGE BEAUTIFULLY ON A PLATTER OR PLATE
Take the chicken wings out and put them on a beautiful plate
Garnish with celery, sliced cucumbers, and a cup of blue cheese dressing
You are ready to enjoy a delicious meal while adding in "no cost entertainment!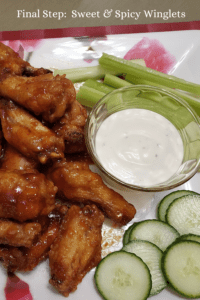 EXCITING AND ENJOYABLE – NO-COST ENTERTAINMENT
Let the excitement and fun continue by adding these no-cost entertainment ideas
Watch your favorite Christmas movie or television show
Make homemade hot chocolate with whipped cream for toppings
Create a bucket list for Christmas 2023 of activities and goals you may want to accomplish
Sing your favorite Christmas carols with your family
Sing a few lyrics and have them guess the name of the Christmas song
Play your favorite Christmas games
Attend a free local concert in your hometown or nearby
This post is all about a gift and dinner for under $100. What a beautiful, enjoyable, lowest-cost Christmas that your loved one will remember for a lifetime!  A luxury gift and dinner for under $100; no-cost fun entertainment! Fabulous deal!
Other Post(s) and Resource(s) You May Like: