This post is all about Seven Great DIY Tips That Will Save You $75 Dollars or More! I guarantee these Seven DIYs (Do It Yourself) will save you at least $75 or more because I tested and tried each one of them.  Since I am on a journey to become debt-free, I am always looking for ways to save that will help me accomplish my goal.
You will be surprised how much money you can save when you begin to find DIY solutions to your problems!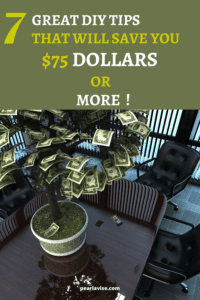 This post is about 7 Great DIY Tips That Will Save You 75 Dollars or More.
These are seven amazing DIY tips that arrange from saving money in the kitchen to personal grooming.  At least, one of these tips will save you at least $75, or more.
1. The Garbage Disposal Key
This key less than $10, from Home Depot, saved me at least $75!  You know as soon as you set your mind to getting out of debt it seems like something always goes wrong or something in the house needs to be fixed and it puts a hack into the budget.  After being irritated because now I might have to call a plumber, I called my best friend, Ms. Fran, a woman of wisdom.  I like talking the seasoned saints because they are full of wisdom.  Her advice is, "before you call a plumber boil some water and pour it down the drain".  I did that, but it did not last.  She advised me to look under the sink and look for the garbage disposal reset button and try to reset the garbage disposal.  She told me to get a flashlight because it would be hard to see the reset button. And she was right!  It was very small.  I tried it, but that did not work either.  The sink started clogging up again and it was getting smelly as well. Then, I went to my next best friend, Mr. YouTube.    There, I found this two-minute YouTube video  ( How To Unclog Your Garbage Disposal ), I went WOW and saved myself, at least $75, after following the instructions. Most garbage disposals come with a key, but I could not find my key, so I had to purchase one.  I, now, call myself Ms. Plumber!  OH! It feels good to save money!  I know for a fact, that had I called a plumber, I would have spent at least $75 or more to get my garbage disposal fixed. Before you call a plumber, talk to friends, or check out YouTube.
 2. The Credit Card Reward Points
You can earn cash back or gifts from your credit card(s).  Since I, bank with Navy Federal Credit Union (NFCU), I earn reward points on every purchase, three points from restaurants, two points for gas, and one point on everything else.  Not all credit cards are equal!  Some credit cards do not carry reward points, such as the NFCU platinum credit card. I understand, from one of  NFCU's representatives, that you can request a product change.  This means that you can request a credit card that gives you reward points, but your interest rate could go up or down. They will let you know before they approve the change.
I, use my "Go Rewards Credit Card" to my advantage.  Anything, that is in my budget such as gas or membership dues, that I pay with a credit card without any fees added because can I pay with a credit card, I pay with my credit card.  I make sure I pay my credit card bill a few days before it is due.  Once, I earned over 10,000 points, I redeem my points for a $100 gift card that I used to purchase gas and food.
Use your credit card strategically. Do not use your credit card for cash advances because you will pay high interest.
 3. Save Money on Interest by Having a Good Credit Score
Because of my good credit score (715), I have an incredibly low-interest rate on my loan.  The higher your credit score, the better your chance of you getting a lower interest rate and a higher credit card limit. When you have an excellent credit score, you save money!  If your credit score is not at seven hundred or more, this should be one of your goals to get it there.
 4. The Salt That Is Good For Your Health
Epsom Salt is my go-to when my body is aching and tired.  I fill the bathtub with warm water, submerge a bag of Epsom Salt and bubble bath and I soak for an hour with a good book.  The next morning, I feel amazing, wonderful.  When you cannot afford a massage, this salt will do wonders for your body.  It is a home remedy that my grandmother used.  Yes, Epsom Salt!  There are also other benefits:  Epsom Salt can be used for gardening, as a plant nutrient, and for nourishing sore muscles
 5. The Hydrogen Peroxide
Hydrogen peroxide is an antiseptic that I keep in my medicine cabinet to use on minor cuts and bruises.  This is definitely, "my go-to" when I get a cut to prevent the cut from spreading into an infection.  It can also be used to gargle and sometimes to prevent bad breath.  And it only costs a dollar ($1) from the Dollar Store.  My Dollar is now the Dollar and a Quarter Store.
 6. Cut back On Eating Out
Although I am not a big fan of eating out, I do like to eat out sometimes at my favorite restaurants. Where I used to eat out three times a month, I now only eat out once a month.  I prefer home cook meals, with fresh fruits, and vegetables.  During the winter months, I often make two of my favorite soups, green vegetable, or a sixteen beans soup.  By making more of my meals at home, I save about $45 a month.
 7. Personal Grooming
Clothes:  Years ago, I met a colleague by the name of Twila.  Twila always dressed to the Nine! All her clothes looked like she shopped at Macy's, Saks Fifth Avenue, or Nordstrom every weekend.  In the back of my mind, I am saying to myself! How in the world can she afford clothes like that when she works in the mailroom? At that time, I worked as a Receptionist.  I felt I should be able to afford more than Kmart.  As I got to know, Twila a little more personally, girlfriend shared her best-kept secret!  The YARD SALE! Twila did not just go to any yard sale.  She went to yard sales in the rich neighborhoods.  She would search the newspaper for Saturday yard sales. Man, she took me to some of these yard sales, and I had a ball!  $40 at a yard went a long way.  Like they say!  Somebody's else trash can become your treasure!  I brought most of my clothes at extremely low prices. To save money, you might try shopping at yard sales, the salvation army, or thrift stores.
Hair: Since I went natural, I manage and style my own hair, many of the time.  When I want some new styles, I go to YouTube. I used to get a protective style to protect my natural every two months, which cost about $150 each time.  Now, I get my done professionally about three (3) times a year.  A savings of $450 a year.  Even when I get it done professionally, I check around with friends to see where I can the best deal.
Manicure & Pedicure:  Every time I get a manicure and pedicure, I pay about $60.  I used to get them monthly.  I only get them now every three (3) months or for special occasions.  A savings of $480 a year!
Check with friends and around your house to see what tips you use that will save you money.  If you have any DIY tips you like to share, send me an email and put this post title in the subject line.
This post is about seven great DIY tips that will save you $75 dollars or more on your personal finance. If this article brought added value to your personal financial knowledge, please share it with others.
Other Post(s) and Resource(s) You May Like:
 SEVEN (7) AMAZING SIMPLE TIPS FOR REDUCING YOUR PERSONAL FINANCIAL DEBT WHILE ACHIEVING PEACE AND BUILDING WEALTH
PERSONAL FINANCE| SIX (6) CATEGORIES YOU MUST UNDERSTAND TO BUILD A BETTER CREDIT SCORE
THREE INCREDIBLE PERSONAL FINANCE  BOOKS YOU MUST READ IN 2022